You Make It We Deliver It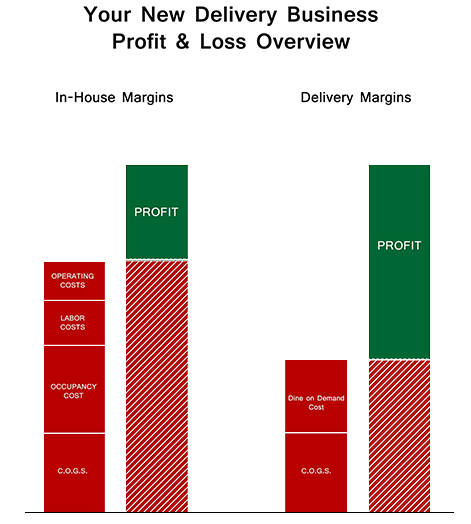 Increase your profits by hundreds to thousands $$$ per week!

Increase your online branding and menu presence

Leverage our customer base of over 30,000 satisfied customers

Benefit from our email marketing, social media, print, press releases, and more

Leverage our relationships with corporations that place large orders for their staff

What are you waiting for? Don't lose the next order to your competitor!
Partner With a Delivery Service for Your Restaurant in Louisville or Lexington
Offering delivery services for your restaurant's food is a smart way to expand your business. You can draw in new customers and increase your profits — however, it's tough to find time to do the delivering yourself. You're already busy enough fulfilling orders for the people who come into your establishment. You don't have the staff or the business plan to help people who call in and want items delivered.
That's where Takeout Taxi comes in. We want to be your restaurant delivery partner. Whether you're based in Louisville, Lexington or southern Indiana, we play the middle man, taking orders for your hot, delicious food and bringing it to nearby residents who want to save themselves the hassle of going out.
Discover the Many Benefits of Using a Food Delivery Company
It's smart to get a Louisville- or Lexington-area delivery service for your restaurant for many reasons, including:
Expanding the reach of your business:

We deliver all over the region, whereas restaurants that use their own drivers are limited to nearby locations.

Increasing your pool of patrons:

Takeout Taxi has dozens of food delivery partners in the Louisville and Lexington area. When people come to our site to get their food, they'll also see your name.

Cutting down on wasted time:

People can order online and with our mobile app, which frees up your employees to tend to in-person customers and other tasks.

Pumping up your profits:

Margins on food delivery are much higher than in-house dining. Your restaurant will benefit financially when you list your menu with us.
Get Listed With Takeout Taxi Today
Takeout Taxi has impressive marketing resources and can assist you in strengthening your online branding — another thing many busy restaurant owners don't have time to do themselves. We allow you to stay focused on the day-to-day details involved in running a restaurant, such as ordering the food and creating new dishes, while we leverage our large customer base to help you land new business.
Start reaping the advantages of a partnership with Takeout Taxi today. Contact us to discuss the options that best fit your restaurant.